March 21, 2023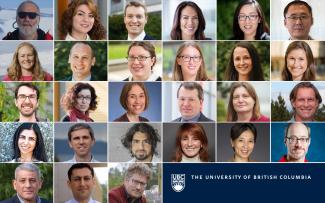 UBC is pleased to announce the recipients of the 2022 Faculty Research Awards. 
The Office of the VP, Research and Innovation will be hosting a reception on June 6, 2023 to acknowledge the achievements of our researchers.
Congratulations to all recipients!
---
JACOB BIELY RESEARCH PRIZE
UBC's premier award for research 
---
UBC KILLAM ACCELERATOR RESEARCH FELLOWSHIPS
Supporting early-career researchers ready to launch the next stage of their careers
---
UBC KILLAM RESEARCH FELLOWSHIPS
Enabling faculty to pursue full-time research during a recognized study leave
Junior Category:
Senior Category:
Note:  award categories are based on years since PhD.
---
UBC KILLAM RESEARCH PRIZES
Recognizing outstanding research and scholarly contributions
ARTS & HUMANITIES:
Senior Category:
APPLIED SCIENCE, MEDICINE, SCIENCES:
Senior Category:
Junior Category:
Note: award categories and adjudication based on years since PhD and main source of Tri-Agency research funding
---
CHARLES A. MCDOWELL AWARD FOR EXCELLENCE IN RESEARCH
Recognizing demonstrated excellence in pure or applied scientific research by a young faculty member
---
PRESIDENT'S AWARD FOR PUBLIC EDUCATION THROUGH MEDIA
Celebrating active and creative sharing of research expertise through news media
---
Award recipients are selected by UBC's Faculty Research Award Committee. 
---